FORTY GREEN YEARS
08.04.2014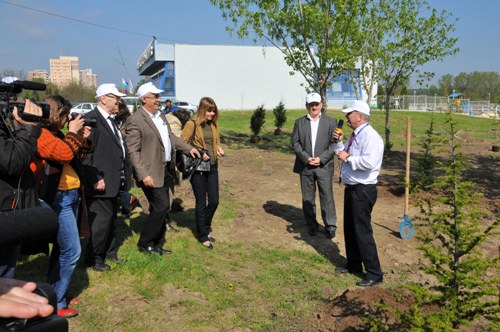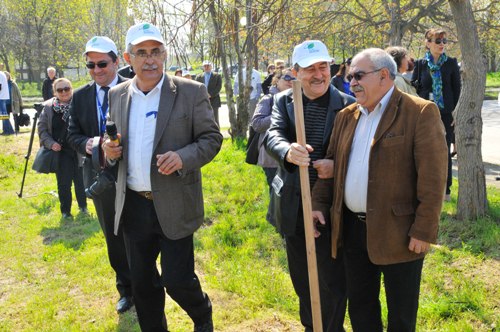 "Forty Green Years" was the catchword all around Kozloduy – the town of the Bulgarian nuclear power plant on April 8th, when forty young trees were planted. Forty was the symbolic number of saplings to commemorate Kozloduy NPP's 40th anniversary this year with its prime environmental concern to generate clean energy.
The first two small trees were planted by Kozloduy NPP CEO Ivan Genov and Kozloduy Municipality mayor Rumen Manoev. "This is a remarkable for the town of Kozloduy day! Those trees shall be here for many long years after we are gone. I would like to make a wish – while the nuclear power plant operates here with Unit 7 and Unit 8, too – let this town witness here a large forest of trees, planted by people who've spent their lives in Kozloduy." Ivan Genov said after he planted his young tree.
The event was attended by representatives of the Bulgarian nuclear industry veterans, "Women in Nuclear" – WiN Bulgaria Association, the Bulgarian Nuclear Society, the Pensioners' Club and KNPP "History" club, as well as young experts at the NPP. Dr. Violin Krushovensky – mayor of Mizia Municipality, the mayors of Harlets village – Ognemir Simov, Glozhene village – Petko Petkov and Butan village – Ivailo Ivanov honored the occasion as well. Evgeniy Akimov – deputy chairman of the International Union of Veterans of Nuclear Energy and Industry also planted a sapling.
Mitko Yankov, a former KNPP Safety and Quality director for many years, now being Chairman of the Union of Veterans of Nuclear Industry in Bulgaria was the master of ceremonies for the day.
The saplings will enrich the beauty of the green area in the immediate proximity of KNPP House of culture and the Sports and Recreation Centre in the town of Kozloduy. This initiative turned out to be a real grand occasion to mark the beginning of a series of events to celebrate the 40th anniversary of the Kozloduy NPP.