ROMANIAN DELEGATION ON A WORKING VISIТ AT KOZLODUY NPP
29.04.2014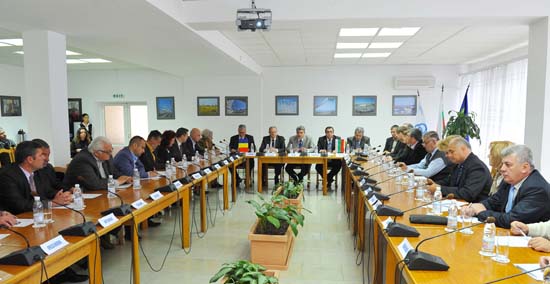 On the 29th of April, a delegation from the neighboring Romania came on a working visit at Kozloduy NPP. The delegation was led by Ion Prioteasa, President of Dolj County Council, and included mayors of the near towns and villages Craiova, Bechet, Călărasi, Rast, Dăbuleni, etc.
Representatives of different Romanian state institutions like State Veterinary Inspectorate, Environmental Protection Inspectorate, etc., were also involved.
Ventsislav Vasilev, Vratsa Province Governor, and Ivan Genov, Kozloduy NPP's CЕО welcomed the guests in the Plant Information Centre.
The main topic of the meeting was the preparation for construction of a new nuclear unit as well as preparation for a forthcoming public hearing of the Environmental Impact Assessment Report in the Republic of Romania.
"I hope we will continue our cooperation for the future development of nuclear power through the construction of new nuclear units", said Ivan Genov in his welcome address.
He emphasized that Romania were head and shoulders above all the countries in the region which plan to construct new nuclear units.
The guests visited the operating Unit 6 and its Turbine Hall to familiarize with the main principles of operation of the nuclear power plant.